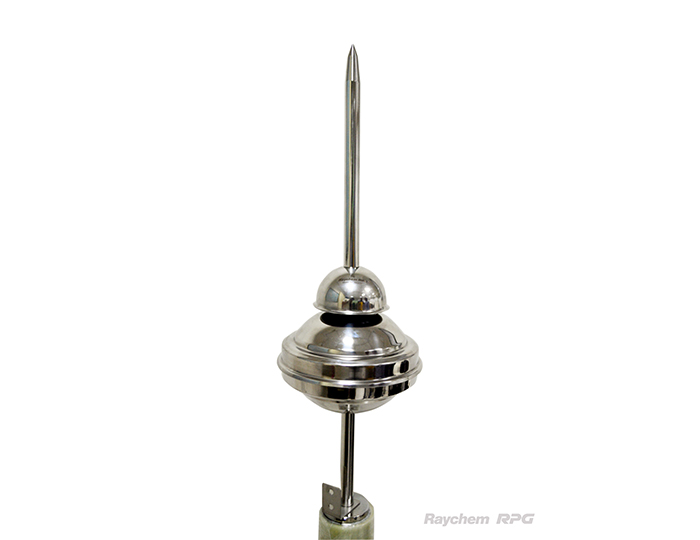 It Provides Active Lightning Protection Solution with High End ratings of protection radius 107m at 5m height, ΔT 60μsec
Early Streamer Emission device (ESE Air Terminal) has an electronic circuit with capacitor to provide high voltage impulses and transmits as upward streamer, providing power to the system and itself gets charged with built up of charge in clouds.
The generated high voltage impulses are transmitted as small emerging discharges from the tip of conductor as upward streamer, earlier than any other point within the protection zone.
The area of protection depends on speed (Triggering Advance - Δ T) with which the upward streamer is created.
Offer three versions of Active Air terminals: • Triggering advance (Δ T) = 25 µ Sec. • Triggering advance (Δ T) = 40 µ Sec. • Triggering advance (Δ T) = 60 µ Sec.
ESE AIR TERMINAL

S.No.

ESE Part Code

GI Pipe /

Elevation

Pipe Height

ESE Mast Height

D T

PROTECTION RADIUS ( R p ) in mtrs

LEVEL I

LEVEL II

LEVEL III

LEVEL IV

1

RES 175

2m

650mm

60 µSec

31

35

39

43

3m

47

52

58

64

5m

79

86

97

107

10m

79

88

99

109

20m

80

89

102

113
FRP SOCKET: ESE Air Terminal to GI Pipe

Part Code

Part Code

FRP SOCKET

RFES-01
Galvanized Iron (GI) Pipe / Elevation Pipe Height

S.No.

Part Code

GI / Elevation Pipe Height

1

R2MGI-57

2m

2

R3MGI-57

3m

3

R5MGI-57

5m

4

R8MGI-57

8m

5

R10MGI-57

10m

6

R20MGI-57

20m
Parameter
ESE Stainless Steel (SS) Air Termination Rods are Active Lightning Protection System (LPS) conforming to International Standards NFC 17-102: 2011 & UNE 21 186
Design requirements, protection level calculations and protection radius obtained from this standard. Recommended Air terminal height is min. 2m higher than rooftop objects as per NFC17- 102.
ESE active air terminal rods are provided along with complete mounting solution including Galvanized Iron (GI) Pipe with base stand and stainless steel SS 304 Air Terminal

Related Products
All products provided below with slider to find faster.