Experience The World Of Transformers At Raychem RPG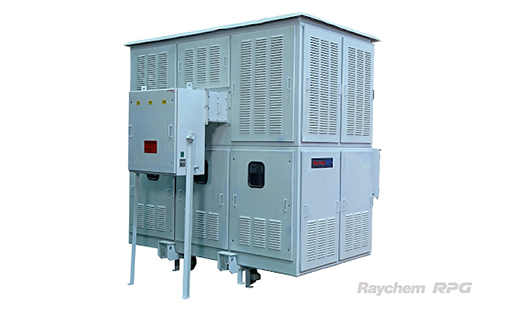 In its quest to brighten and transform the face of Indian subcontinent is the burgeoning Transformer SBU of Raychem RPG. This strategic business unit has earned an unmatched reputation for its product quality and service.
Transformer SBU has two state-of-the-art manufacturing plants at Chakan, near Pune in Maharashtra and Nalagarh near Chandigarh in Himachal Pradesh.
Transformer Sbu Has Grown From Strength To Strength With
A. Proven expertise in DESIGN and customized solutions
B. Strong Vendor base with strong supply chain management system
C. Effective ERP network
D. Accredited with ISO: 9001 - 2008, ISO: 14001 - 2004 and OHSAS: 18001-2007 certification
Transformer Sbu Has Three Product Segments
1. Transformers Industrial & Distribution

A. Cast Resin Transformers(CRT) upto 10MVA 33kV Class
B. Vacuum Pressure Impregnated (VPI)Transformers upto 5MVA 11kV Class
C. Oil Filled Transformers upto 25MVA 132kV Class with special applications
D. Deltaformer - Energy Efficient Distribution Transformers
2. Flat and Triangular insulated Busbars used in switchgears and transformers
3. Epoxy Cast Current and Potential Transformers upto 33kV