Retrofitable AMR Module for G1.6 Gas Meter
Anytime conversion of mechanical meter to smart meter
Automatic Meter Reading Application through communication protocol
Data storage upto 180 days
Battery life upto 10 Years
Accurate meter reading
Timely billing to domestic customers
more...
Retrofittable AMR Module is used for converting a mechanical meter to smart postpaid/AMR meter by using the following steps.
Break Index cap located below index cover
Insert AMR Module into the adaptor and into the index of the mechanical gas meter
Fix the cover on AMR Module with seal screw and seal it
Commission the smart meter by entering details of existing meter on AMR module through mobile app and is fully functional as a Smart Postpaid Meter
Retro fitment of Post-paid AMR module to existing G1.6 Mechanical Gas Meter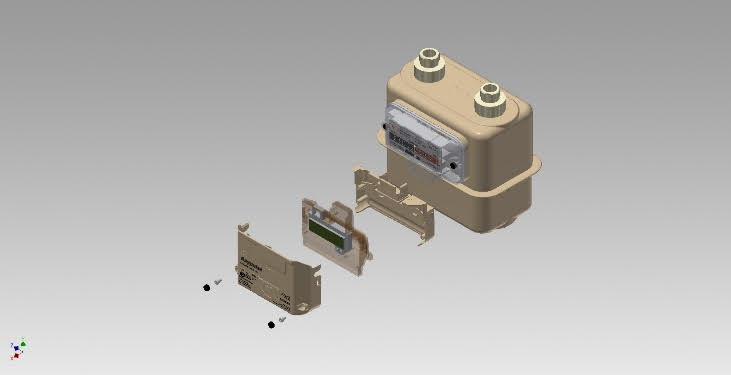 Parameter
Value

Model

Raychem RPG G1.6

Nominal flow rate Qn

1.6 m³/h

Minimal flow rate Qmin

0.016 m³/h

Maximum flow rate Qmax
2.50 m³/h
Transitional flowrate Qt
0.25 m³/h
Cyclic volume – V (measured at 20°C)
0.52 dm³
Allowable indication errors limit during initial verification

Qmin to 0.1Qmax – E

±3%
0.1Qmax to Qmax – E

±1.5%

Ambient temperature – tm

-10 to +55

°

C

Gas temperature – tg

-10 to +55

°

C

Max. working pressure – Pmax

0.50 bar

Max. pressure drop

∆

p at Qmax

2 mbar

Index measuring range

99999,999 m³

Pulse value (pulse is optional)

0.01m3

Distance between connection bosses

110 mm

Weight

~1.7 kg

Family of gases

Gaseous fuels: Family 1,2 & 3 acc. to EN 437

Electromagnetic class

E1

Mechanical class

M1

Class of gas meter

1.5a

Possible connection standards

NPT, BS746, ISO and others on request
Related Products
All products provided below with slider to find faster.