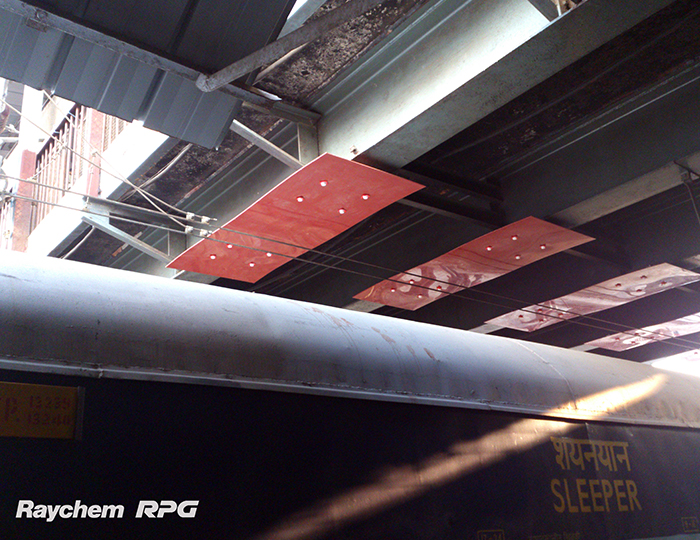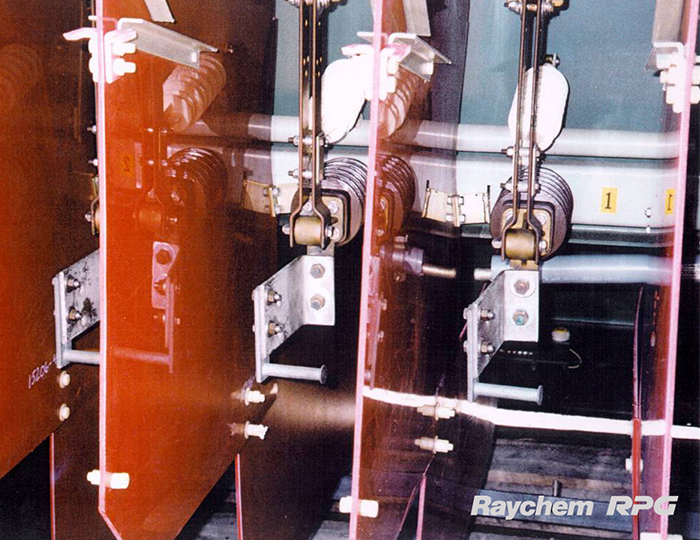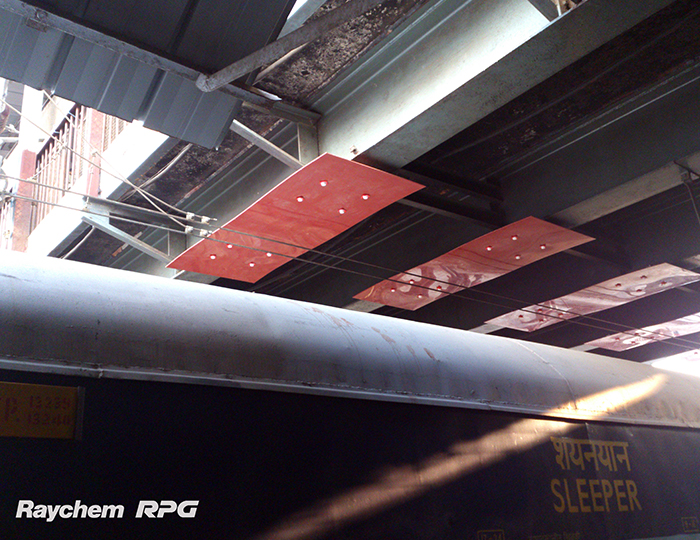 Medium Voltage Insulating barriers. BCIC preformed covers provide connections for insulators, bushings and busbars. Customized covers can be made simply and economically by vacuum forming non-shrinkable sheet material. Installation is very simple often with no need to disconnect busbars. BCIC covers are held in place with UV-stabilized plastic nuts and bolts, rivets or tie-wraps, and can be easily removed for maintenance, or else sealed with Raychem sealing mastic. Suitable for applications up 36 kV. Rigid Red Barrier Board (RRBB) is a non-structural, interphase barrier for switchgear applications. The RRBB board has excellent track resistance, especially following a power-arc. It can be easily fabricated into a shape; produces less nuisance dust and less tooling wear than other boards.

BCIC - Insulating covers designed to prevent animal caused outages on MV distribution lines, substation connections and bushings
Rugged, track resistant, UV resistant polymer ensures long-term performance even in the most extreme environmental conditions
Made from Raychem Red HV outdoor material
Flexible to fit many configurations and insulator sizes
RRBB - Excellent tracking resistant properties provides longevity not found in typical polymers
UV properties of barrier boards are suitable for outdoor applications
Extremely durable barrier boards are damage resistant from solvents, mechanical impact and general wear and tear
Innovative cross-linking polymer withstands power-arcs without compromising its physical shape. The high temperature resistant material can be wiped clean after power-arc events resulting in no visible effects of surface damages.
more...
RRBB

Key Material Properties

Test Method

Requirement

Physical

Tensile Strength

ASTM D638

17 Mpa minimum (2450 psi min)

Ultimate Elongation

ASTM D638

25% minimum

Electrical

Tracking and Erosion Resistance

ASTM D2303

No tracking, or erosion to top

Step Voltage Method

surface or flame failure after:

1 hr @ 2.5 kV

1 hr @ 2.75 kV

1 hr @ 3.00 kV

(initiate @ 2.5 kV)

20 min @ 3.25 kV

*For BCIC, please contact Raychem RPG Representative
RRBB

Product Selection Information:

dimensions in mm

Catalog Number

Width

Length

Thickness

RRBB-2050/775-5-B

775

2050

5

*For BCIC, please contact Raychem RPG Representative


Related Products
All products provided below with slider to find faster.